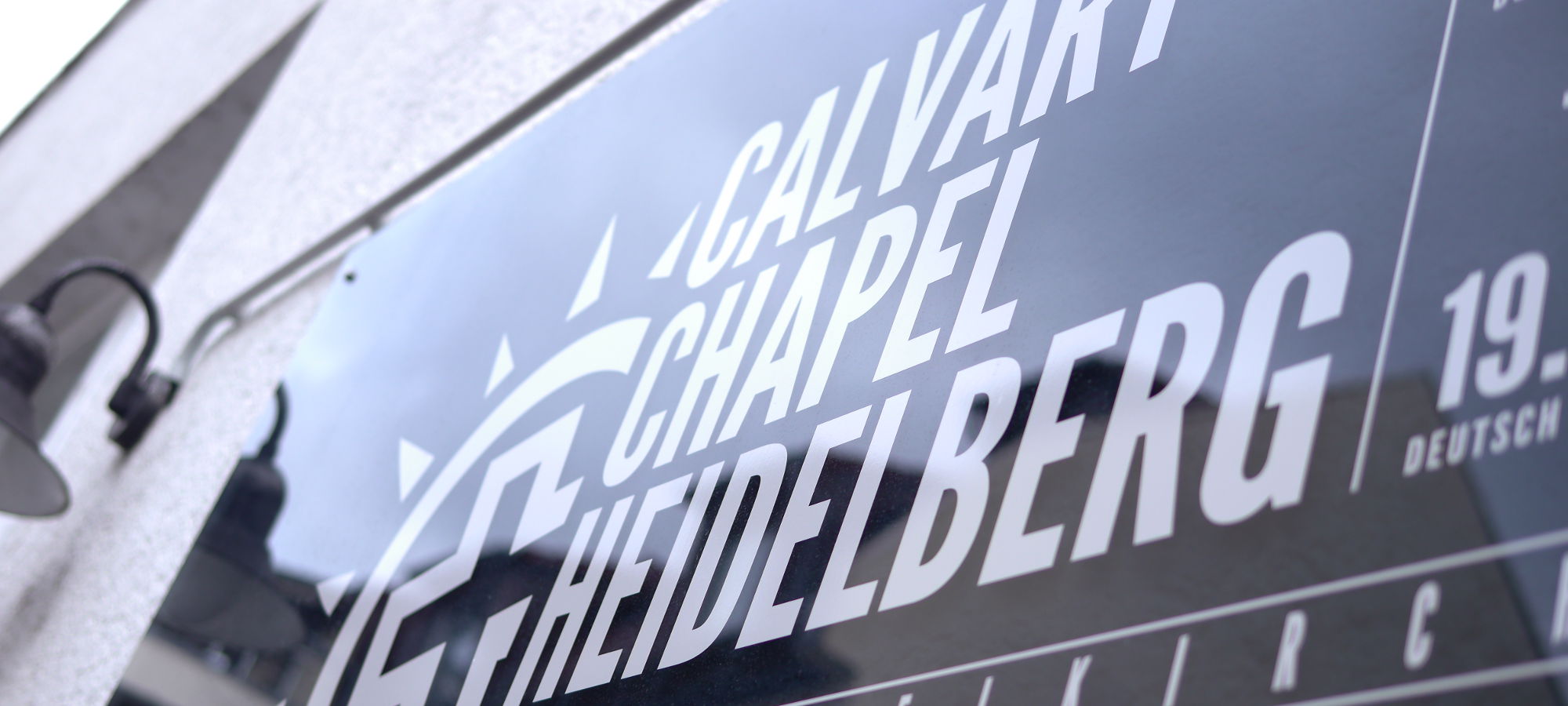 We would like to introduce ourselves ...
Calvary Chapel gets its name from the place where Jesus was crucified 2000 years ago. The Calvary Chapel movement is a loose connection of Bible-based free evangelical churches.

"Bible-based evangelical" because the Bible is the only foundation of our faith. We reject other extra biblical "revelations" or traditions. The Bible is God's word, His love letter to mankind. God reveals Himself through the Bible so that we can get to know Him. In it, God also gives us the answers to important questions in our lives and shows us, very practically, how we can live a happy and blessed life. Jesus said to His followers,
"If you abide in My word you are My disciples indeed. And you shall know the truth, and the truth shall make you free" (John 8:31-32)

We agree with the German Alliance of Protestant Churches' statement of faith.


"Free church" because each church is independent in its decisions about how to allot funds. We do not have membership fees or a mandatory church tax. We finance our ministry solely by voluntary donations.

Our church services are very simple, without a lot of tradition or liturgy. We want to offer people, who don't come from a traditional church background but are interested in God, a spiritual home where they can grow in their relationship with the living God along with other Christians. Singing together, praying freely, communion and practical preaching (verse by verse teaching) that is easy to understand are all part of a typical service at Calvary Chapel. We teach through the whole Bible verse by verse because all of God's word is important to us. We believe that without the inspiration of the Holy Spirit, no true teaching of God's word can be given since the Bible says of itself that it cannot be understood without the Spirit of God. Through Him the Bible was also given to us. We also understand that the gifts of the Holy Spirit are an important part of a living church. However, the Word of God must always be seen as the authority over personal experiences, since the Holy Spirit will never do anything that is out of line with God's word.

Our style of music is modern and the atmosphere is laid-back and relaxed.


Everyone is welcome to come just as they are. Our wish and goal is that the love of God be seen and experienced amongst us.

The Calvary Chapel movement comes out of the Jesus People movement in the USA that was a spiritual revival amongst the hippies that were considered subculture during the late 60's and early 70's. It was a reaction to the strict and hard-set tradition that had taken over the Christian churches that weren't flexible enough to receive these young Christians. The young people who found Jesus back then also brought their music into the church. A lot of the worship songs sung in churches of all denominations, around the world today, lifting Jesus up, come out of this movement.

There are over 1,000 Calvary Chapel churches worldwide, 80 in Europe and 11 in Germany. Calvary Chapel Heidelberg was planted in 2002.


We feel bound as brothers and sisters to all people who have received Jesus personally and believe on Him. We are working with many Christians from many different denominations. We love the variety in the church of Christ that we see as a symbol of God's love. He loves all people and wants to serve and meet us all in a way that fits our personality and personal make up. Some people can best meet God in a liturgical, traditional church service. That is good. Others like to have it simple and freer. And that is also good. We want to offer all of these types of people a spiritual home.


Being a Christian
means, most of all, that we
have a personal relationship
to Jesus Christ. God created us for a personal relationship with Himself. He is the most wonderful person in the entire universe. Living for and in fellowship with God is the meaning and purpose of our lives. Only in a personal relationship with God, can we live in peace and fulfilment with the Creator our hearts long for.
However, we are all separated by our nature and guilt from this Holy God and are eternally lost. God says of us:
"There is none righteous, no not one." "For all have sinned and fallen short of the glory of God." (Romans 3:10, 23)
Our consciences bear witness that we don't always do the right thing and that we are guilty. We long for
forgiveness and true life
in relationship with God. We cannot overcome this separation and estrangement from God or work off our guilt on our own. We can't earn our salvation: not by doing good works, going to church, getting baptised, meditating or any other outward form of religiosity or human effort.
The wonderful news is that God, to whom you are eternally precious, loves you passionately. That is why he is offering you salvation and an eternal relationship in His glory with Himself as a free gift.
He gave us this gift in
Jesus Christ
. God became a man in Jesus and lived the perfect, sinless life that we couldn't live. He carried our sin and the consequence of it on the cross in our stead. Our pain caused Him to be separated from His Father and killed. He used His sinless live to pay the price for our guilt. But after three days Jesus rose again, and today, He wants to live in our hearts.
He wants to trade His
forgiveness
and
perfect life
for our sin. Just as every gift, however, we have to receive it to make it effective for us personally. This doesn't happen automatically just because we have grown up in a Christian "culture" or Christian home. Each must make their own personal decision to repent (turn away from their old life) and a conscious receiving of God's work of salvation.
"But as many as have received Him, to them He gave the right to become children of God, even to those who believe in His name." (John 1:12)
If we confess our guilt before God, consciously turn from it (repent), and accept in faith Jesus' work on the cross as payment for our personal sins trusting in it alone, something wonderful will happen. We are made spiritually alive for the first time in our lives. All of our guilt is forgiven and it will be symbolically written over to his account. Then, His righteous life is written over to our account, and we can have a relationship with God and go to heaven. The separation from the Living God is then overcome, and He sees us as His children.

"And this is the testimony: that God has given us eternal life, and this life is in His Son. He who has the Son has life; he who does not have the Son does not have life." (1 John 5:11-12)


Do you know God personally already?
With one prayer from the heart, like the one below, you can accept God's gift of salvation:
God, I realize that I have been calling the shots in my life and that I am separated from You by my sin. Please forgive me of my guilt. Thank you that you forgive my sin because Jesus died for me and has become my Saviour. I accept this gift for myself personally. Jesus, please take over the Lordship of my life and change me so that I can be who You want me to be. I invite you, Lord Jesus to come into my life and entrust it to You. From today onward, I want to live my life for You and with You. Please come into my life with Your Holy Spirit and give me the strength to live my life with You.
And in closing…

Thank you for your interest in our church. If you have more questions about us or Jesus, we would love to take the time to talk to you personally. We invite you to also join us as we study God's word and get to know Him better.

If you don't have a Bible and would like one, we would love to give you one. We can also send you a free cassette or CD of one of our sermons.


Kind regards,
Pastor Christian Kleinloh
&
Calvary Chapel Heidelberg